Combining the portability of a pistol and the terminal performance of a rifle makes the new Daniel Defense DDM4 PDW the ultimate personal defense firearm.
Millions of Americans choose to defend their families and homes with a firearm but doing so requires the right tool for the job. The new Daniel Defense DDM4 PDW pistol in .300 Blackout is a superior alternative to traditional handguns because it offers improved ballistics, capacity, accuracy and range in a package that is small enough and light enough for everyday carry. Whether at home, work, or play, the American-made Daniel Defense PDW is the last word in personal protection.
Best of Both Worlds
As of 2017, the Bureau of Alcohol, Tobacco and Firearms (ATF) ruled that an AR-platform rifle with a short barrel and an arm brace did, in fact, meet the requirements of a pistol. In essence, the Daniel Defense PDW falls under the same classification as guns like the Smith & Wesson Shield and the Glock 19. Incidental shoulder contact when firing AR pistols is legal, and so the Daniel Defense can, in most areas, be carried as a concealed personal defense firearm. But the advantages of an AR pistol in .300 Blackout over conventional compact and subcompact 9mm and .45 ACP autoloading pistols are apparent. With both supersonic and subsonic ammunition, the .300 Blackout cartridge exceeds energy levels from a .45 ACP, and the capacity of an AR pistol far exceeds that of even a full-size semiauto striker-fired handgun. What's more, with the use of an arm brace and an optic the PDW's accuracy potential far exceeds that of a traditional handgun. The PDW is, simply put, a better defensive weapon than any traditional pistol.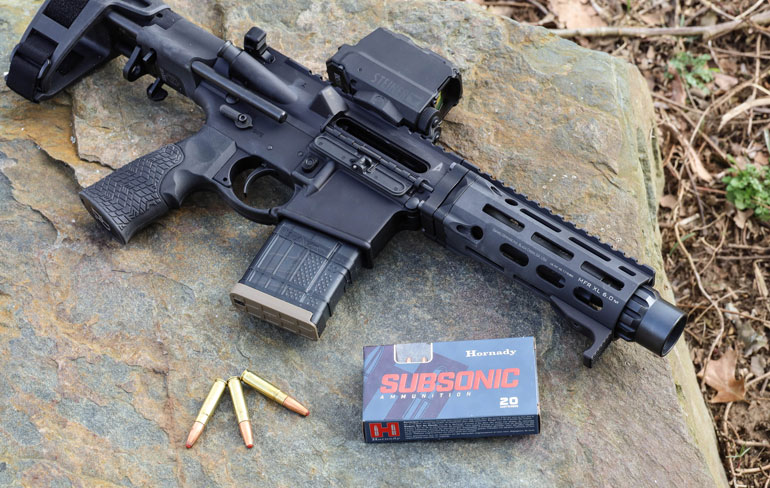 The obvious advantage of AR pistols over carbines is reduced size. With its seven-inch barrel and a minimum overall length of 20 ¾ inches, the Daniel Defense DD4M PDW fits easily inside a backpack for concealed carry. That makes the PDW a more versatile defensive option than any AR carbine, and it still falls under the legal definition and protections of a handgun.
"I believe our new DDM4 PDW is the absolute best gun you can buy to protect your family," says Daniel Defense President and CEO Marty Daniel. "And protecting our families is the most important thing any of us can ever do. It's accurate, easy to shoot, and compact. I couldn't be any prouder of this groundbreaking product."
Built to the Highest Standards
Daniel Defense firearms stand out in the crowded AR market because they're built to the highest standards, and the DDM4 PDW is not exception. Both the upper and lower mil-spec receivers are CNC machined from 7075-T6 and the M16 profile, mil-spec MP tested bolt carrier group is chrome-lined and features a properly staked gas key. The low-profile gas block is CNC machined from 4140 hardened steel and features a mil-spec heavy phosphate coating. The PDW's pistol-length direct impingement is designed to reliably run a variety of .300 Blackout ammunition.
The PDW's 7-inch, S2W (Strength-to-Weight) profile cold hammer-forged barrel is made from chrome-moly vanadium steel. It's chrome lined, mil-spec heavy-phosphate-coated and HP/MPI tested for unmatched durability. The PDW comes with a 1:7-twist barrel, which makes it ideal for shooting the full range of .300 BLK ammo, since it will stabilize the heaviest subsonic bullets yet provides superior performance with faster ammunition. The PDW runs supersonic and subsonic ammo with or without a suppressor.
Long Feature List
It's clear that Daniel Defense designed the PDW to be as shooter friendly as possible. The muzzle is topped with a Daniel Defense Linear Compensator that's made from 17-4 PH stainless steel and salt-bath black nitride treated for maximum corrosion resistance, and it effectively channels muzzle blast away from the shooter. The MFR XL M-LOK handguard, which is made from CNC machined 6061-T6 aluminum and type III hard coat anodized, offers plenty of grip space on the gun as well as the convenience of M-LOK attachment points for adding lights and other accessories. PDW pistols also come with an SLR M-LOK MOD2 handstop that provides a safe and consistent hold point for the non-shooting hand.
The PDW's design works well for both right- and left-handed shooters. It features an ambi-selector switch and Daniel Defense's GRIP-N-RIP ambidextrous charging handle. The GRIP-N-RIP is engineered for suppressed fire and its anti-gas design redirects gas flow up and away from the shooter's face. A Daniel Defense overmolded pistol grip also comes standard.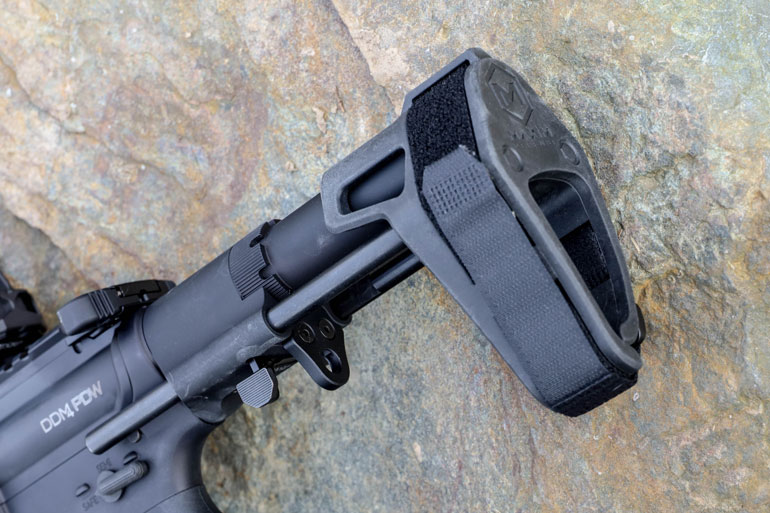 Not all pistol braces are created equal, and Daniel Defense opted to outfit the PDW with a Maxim Defense CQB brace on Maxim's Enhanced Buffer System. The pistol brace rides on two heavy duty steel rods, and to adjust the length of the pistol grip you simply press down on the oversized tab on the left side of the brace. The four-position brace locks securely in place and is designed to withstand years of service. What's more, you can quickly and easily adjust the brace length as needed; all without taking your eyes off the target. There's also a single-point sling attachment positioned below the buffer tube for transporting the pistol. An SBR version of the Daniel Defense DDM4 PDW that comes with Maxim Defense's CQB Gen 7 stock also is available.
---
---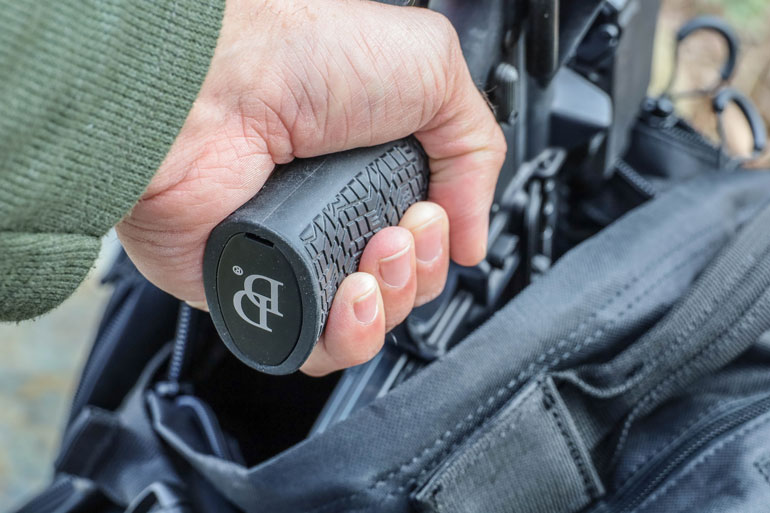 Next level of Personal Protection
At a little over 20 inches, the Daniel Defense DDM4 PDW .300 Blackout fits easily into a standard-size backpack, and since it weighs just 5.7 pounds without an optic it isn't a burden to carry. With a bit of practice, I could unsling the backpack and retrieve the PDW very quickly, and with a Steiner DRX1X in place, I could deliver accurate shots more efficiency with the PDW than I can with a handgun.
Capacity shouldn't be an issue with this pistol, but it's easy to slip a spare mag (or two, or three) in that backpack without making the pack impractically heavy. Carrying the PDW in a pack also is an ideal setup for those who hike or fish off the beaten path and, as a result, must deal with the associated risks of being far from help during a life-threatening situation.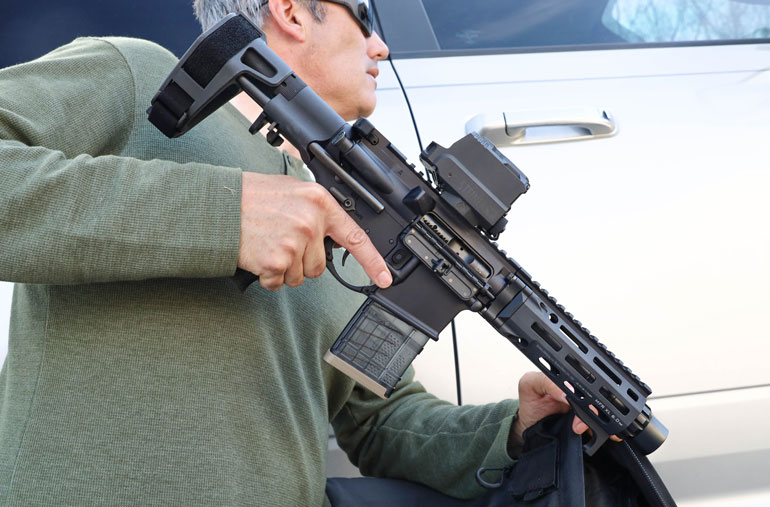 In addition to carrying the PDW during outdoor activities, to and from work and while running errands, it also should accompany you every time you go to the range. Why? Because the PDW is loads of fun to shoot. Recoil is mild and muzzle blast with subsonic loads is minimal thanks in large part to the Daniel Defense Linear Compensator, which effectively redirects muzzle blast away from the shooter.
We like to think that we're safe in our own houses, but in the event of a home invasion there are few defense firearms that are better suited to stopping a threat than the Daniel Defense PDW. It provides all the right tools to quickly neutralize a threat in a compact, maneuverable platform that's far superior to traditional handguns. Plus, it's easy to add a light, optic, and suppressor, and doing makes the PDW in .300 Blackout the most effective and efficient home-defense weapon you can own.
If you find yourself in a life-and-death confrontation, you want the best weapon available to stack the odds of survival in our favor. I hope that I never find myself in such a situation, but if I do, I want to be sure that I'm adequately prepared to win the fight. The new Daniel Defense DDM4 PDW .300 Blackout is designed to do just that.
Daniel Defense DDM4 PDW .300 Black Pistol Specs
Action: Direct impingement gas-operated semiauto
Gas System: Daniel Defense low-profile gas block, pistol length gas system
Caliber: .300 Blackout
Barrel Length: 7 in.
Barrel Profile: S2W (Strength-to-Weight)
Twist Rate: 1:7
Muzzle Threads: 5/8×24 TPI
Weight: 5.7 lbs.
Overall Length: 20 ¾ in to 24 ¾ in
Mounting System: M-LOK
Muzzle Device: Daniel Defense Linear Compensator
Magazine: Magpul PMAG 30 AR 300 B GEN M3
MSRP: $1,865
Made In: USA