Here's why the Lunar 9 suppressor belongs on your home-defense 9mm pistol.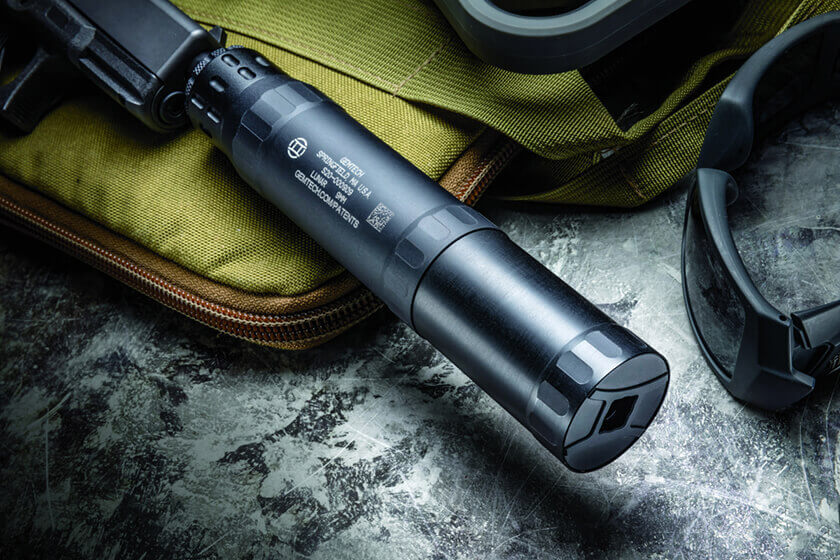 A suppressor should be considered a key piece of equipment in personal protection scenarios. Anytime a firearm is needed for defense, there's a good chance that a shooting will occur indoors. If you have a family, there's likely to be children about. And even if you live alone, a suppressor belongs on any home-defense firearm. Your hearing will thank me.
Noise and recoil reduction are the reasons why I'm a proponent of suppressors. Anytime we shoot firearms, we use ear protection, right? It not only protects our hearing, but also minimizes the effect that flinch-inducing muzzleblast can have on our performance. However, even with a good set of earmuffs or plugs, helping newer shooters avoid flinching is an uphill battle. The concussive force emanating from the muzzle when the gun fires, and felt recoil, make it hard to concentrate on reacquiring the sights and performing the next trigger press. When it comes to pistols, if there's a flinch or anticipation of recoil, the probability of a disappointing miss is high.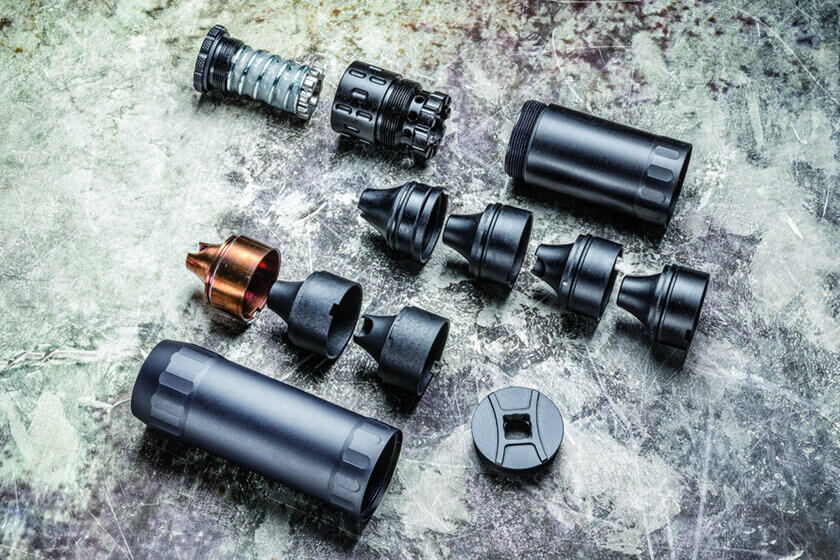 A suppressor mitigates these problems because it's like putting a recoil reducer and a set of earmuffs on a firearm. I've previously described the effects of a suppressor as "putting the firearm on Xanax" because it helps the gun chill out. Gone is the loud noise emanating from the muzzle and the concussion that comes with it. Plus, a suppressor's weight on the muzzle end reduces how fast and how far it moves or flips.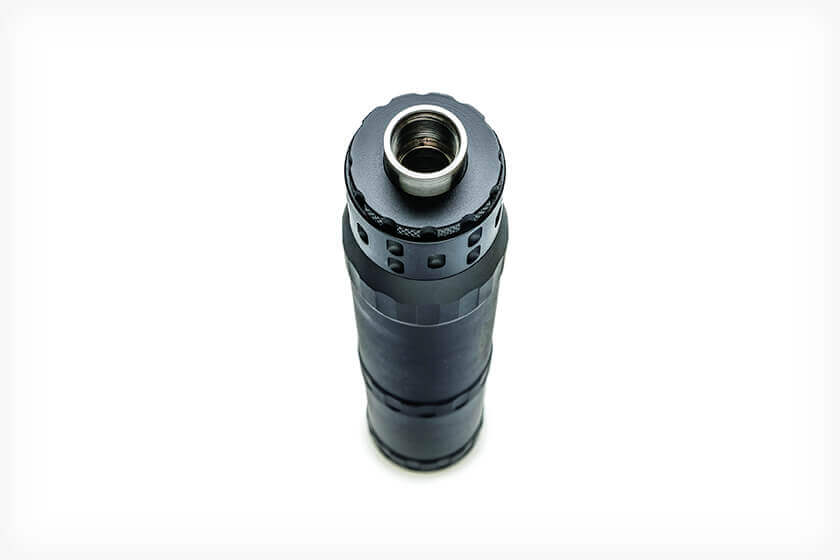 Many people choose a pistol for home-defense because they can be bought inexpensively and appear less intimidating. Most of the pistols sold today are chambered in 9mm. It only makes sense that the top suppressor I'd recommend for defense, and general use, is one that's designed for 9. Therefore, Gemtech's new Lunar 9 should be on your short list.
Size & Weight Matter
There are many great suppressors designed for 9mm pistols. At $624, the SilencerCo Octane 9 costs about the same as the Lunar 9, but is longer and heavier. The SureFire Ryder 9-TI2 is similar in weight and smaller in diameter, but costs $849.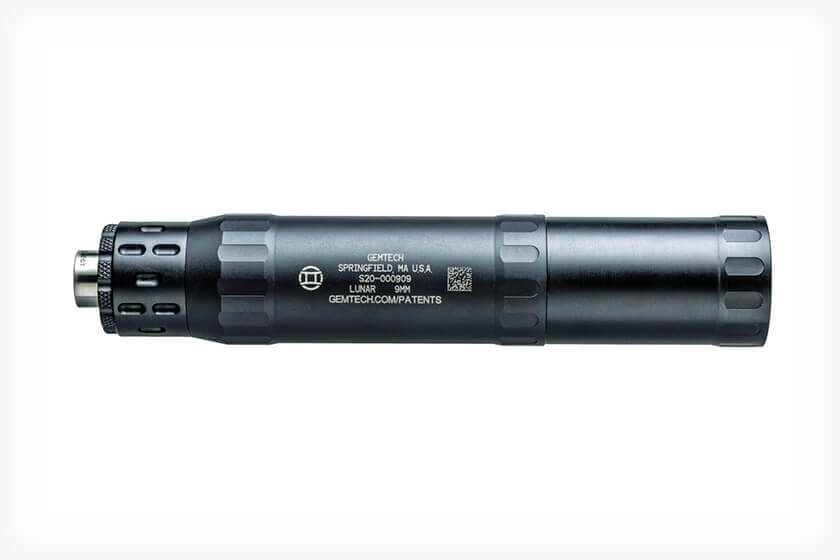 The Lunar 9 has a number of features that make it my front-runner. The first is its modularity. Not only can the Lunar 9 have both a short­ and long configurations, it can be mounted in a number of ways. Plus, it can still be used with .300 BLK rifles when shooting subsonic ammunition.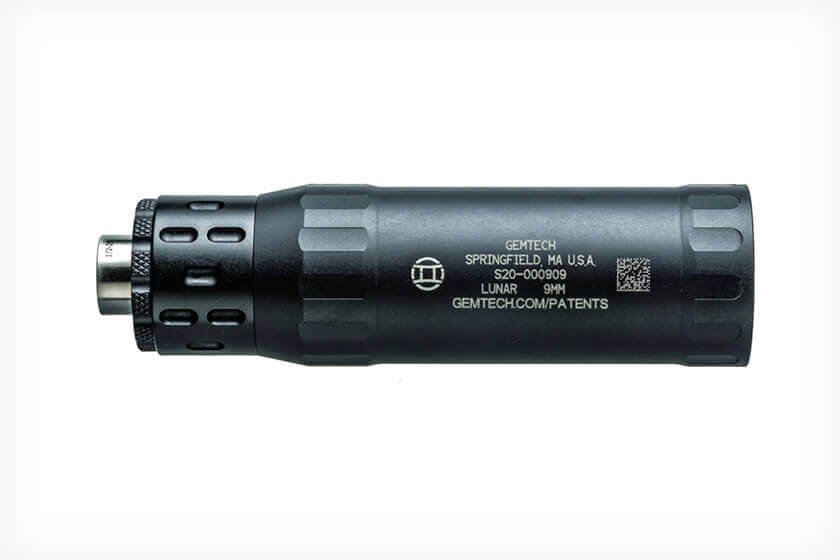 Modularity can be a polarizing subject among long-time suppressor users, with many taking the approach that customers should buy a suppressor dedicated to their intended application. It is the best way to get maximum performance from any suppressor, so I agree with this school of thought in situations when the person knows exactly what they want, and also knows that their tastes or desires won't change over time. For those prone to changing suppressors, or are less certain about their future needs, an adaptable design may be the perfect choice.
I love the Lunar 9 because it easily transitions between a 4.7-inch length and a 7-inch length. The shorter length is my preferred choice for home defense. In the short configuration, the Lunar 9 weighs a scant 7 ounces, and the long configuration only bumps up the total weight to 10 ounces. The Lunar 9's light weight helps it work reliably with most pistols.
Pistol suppressors used on Browning-style, tilt-barrel, recoil-operated pistols — just about all popular pistol made today — require a Nielsen Device, or "recoil booster," to facilitate reliable function. The device allows the barrel to move independently rearward when the pistol fires, effectively separating the suppressor's weight from the muzzle long enough for the pistol to cycle. It's a slick little invention that works most of the time. A general rule is "the heavier the suppressor, the more temperamental it will be."
---
---
Nielsen Devices are finicky when suppressors get heavy because that's more weight they have to momentarily separate from the barrel. This is why one of the design criteria for the Lunar 9 was light weight. This critical specification is made possible by the single, precipitation-hardened 17-4 stainless steel blast baffle, which is followed by up to six aluminum baffles. All of the baffles are skirted and ride in a 7075 aluminum tube. The Lunar 9 design puts weight where it needs to be — on the first blast baffle — and then uses strong but lightweight aluminum everywhere else.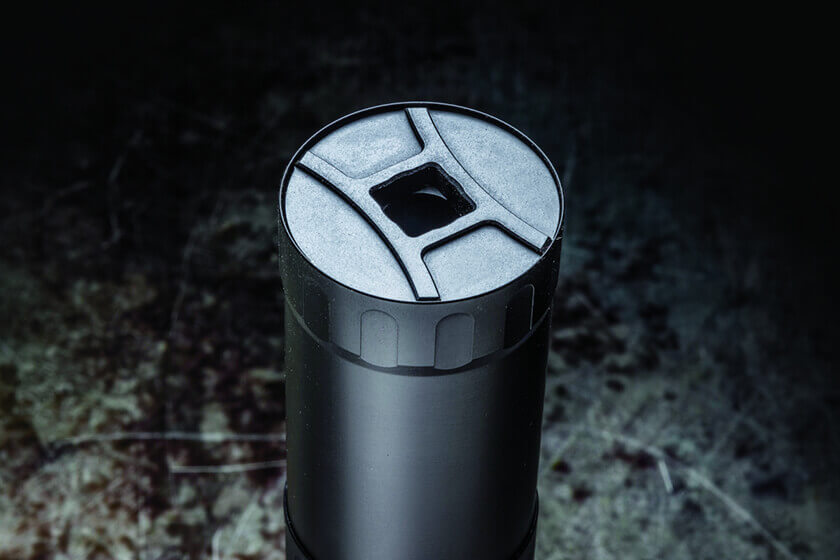 The 17-4 blast baffle is easily recognizable thanks to its copper-hue color, and it's tough. Stainless steel of this type, when precipitation-hardened, is really good at handling the heat and pressure that comes along with firing a pistol. Unburned powder exiting the muzzle acts as a high-powered sandblaster that abuses the first baffle it contacts.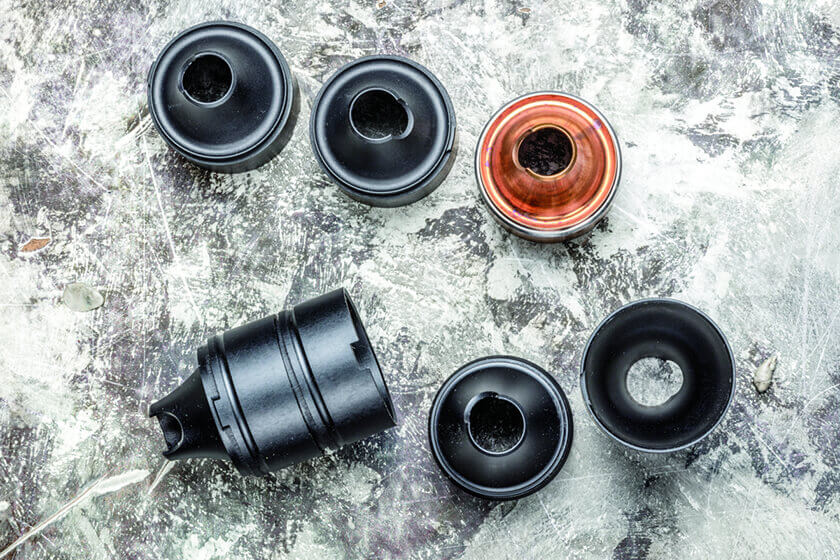 There are two skirted aluminum baffles that sit inside the short configuration of the Lunar 9. There are another four skirted aluminum baffles that ride in the suppressor's extension. The baffles are all removable from the suppressor's outer tube so that the user can perform maintenance at will. Disassembly of a suppressor used on a centerfire rifle isn't needed, but on a centerfire pistol this capability is useful. It's necessary to remove, clean and re-grease the Nielsen Device every few hundred rounds to prevent the wear that can occur when unburned powder gets trapped between the spring and piston. Also, pistol suppressors that see lots of rounds and are made from aluminum require disassembly for cleaning because they cannot be simply dropped into a cleaning solution for a couple days like a steel suppressor can. The Lunar 9 is easy to maintain because it completely disassembles, exposing each baffle to the occasional squirt of Birchwood Casey's Gun Scrubber, and the judicious use of a brass brush. For modularity, easy maintenance and long life, the Lunar 9 is hard to beat. For the record, a good maintenance schedule would be cleaning and re-greasing the Nielsen Device every few hundred rounds, and complete disassembly and baffle cleaning every few thousand rounds.
Mandatory?
Most folks reading this article likely have a firearm for home defense, and most of those are probably pistols. If the pistol you keep in the nightstand doesn't have a threaded barrel, it's easy enough to order one online for most popular pistols. Almost all of the aftermarket threaded barrels drop in with no fitting required. Once the threaded barrel is in place, the Lunar 9 threads on and the gun is ready to shoot.
My preferred set­up for the Lunar 9 is the short configuration because it drops most 147-grain 9mm loads to around 135 decibels (dB). While that's not hearing safe, it will greatly reduce the potential for permanent hearing damage if a firearm had to be used in a home-defense scenario. Shooting any gun indoors is still going to be loud, but at least you'll have a better chance of not losing your hearing.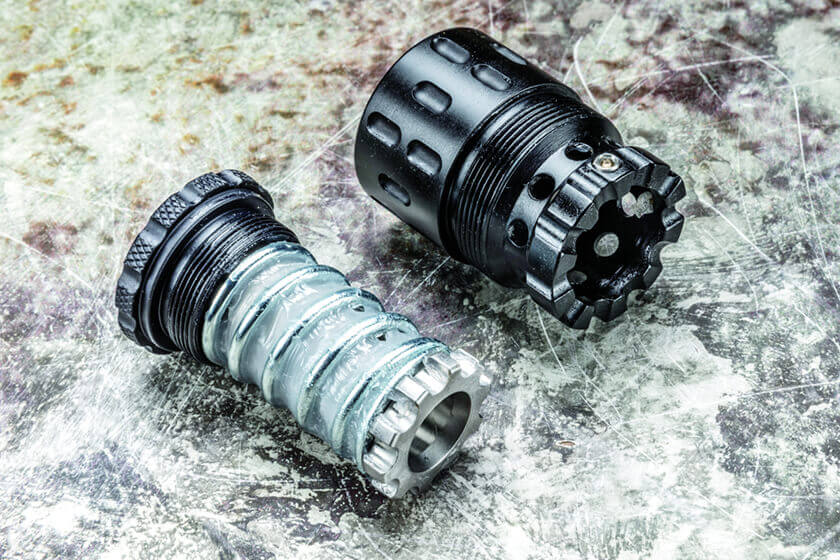 The first time I used a gun in self-defense was in Afghanistan and, as I looked through my optic and pulled the trigger, I never heard my rifle fire. I was wearing no ear protection and had no suppressor. I could hear my heavy breathing from the preceding run to the action, and, if I close my eyes and think about it, I can still see where my reticle was relative to my target when the shot broke. However, that first time in a fight, my brain decided to cut the sound from my rifle. This is sometimes called "auditory exclusion." Subsequent gunfights lacked the luxury of near-silence, and I learned quickly that shooting any gun unsuppressed in a fight generates enough noise to distract the shooter from important tasks such as communicating with others or remaining situationally aware of the immediate environment. These types of unsuppressed encounters without hearing protection all occurred outdoors and would have been more problematic had they happened indoors. (We initiated every indoor fight I can remember, and I either wore ear protection in advance or attached a suppressor.)
Take the unexpected fight indoors and, even with a pistol, the noise from firing an unsuppressed firearm makes life a lot worse. Take a minute to run this little experiment: Assuming you're home, look around the room you're in and then close your eyes and listen to what's going on in and around your house. In my case, I can see everything in my office, which means I know what's going on in a single room. When I listen, I can hear my children running around on the first-floor hardwoods, and my wife walking around on the second-floor carpet. I also hear a vehicle passing by my house. If I were to take one unsuppressed shot, I may still know what's going on in the room I occupy, but I'll lose awareness of everything else — and my ears will be ringing. I won't be able to determine if there are multiple people in the home, or where they're at. If someone is coming to help me, I won't know it until I see them; surprises immediately following a gunfight rarely go well. You'll gain more situational awareness through hearing than seeing when fighting indoors or at night. If it's an option, fight suppressed.
Of all the pistol suppressors out there, the Lunar 9 is a top pick. Part of the reason is the ability to shorten it and still benefit from good sound suppression. The other reason is that its durable and simple. All it takes to remove the front cap is a 3⁄8-inch ratchet driver. The Lunar 9 also has the ability to accept a variety of accessories that allow for use with a tri-lug mount, offers quick attachment and detachment from pistol-caliber carbines. Direct-thread mounts provide the customer the simplest solution possible. Any accessory that fits Gemtech's GM-9 will also work with the Lunar 9.
The next time the gun-buying bug bites, think about putting a suppressor on your home-defense gun first. The added length isn't an issue because it won't be used for concealed carry. The added hearing protection and situational awareness gained through using a suppressor could easily mean the difference between winning a fight or losing.
Gemtech Lunar 9 Suppressor Specs
Caliber: 9mm and .300 BLK (subsonic)
Diameter: 1.4 inches
Thread Pattern: ½-28 (Nielsen Device); compatible with all GM-9 adapters
Overall Length: 4.7 in. (short); 7 in. (long)
Weight: 7 oz. (short); 10 oz. (long)
Select-Fire Rating: Yes
Finish: Type III Hardcoat anodized
Sound Meter: 135 dB (short);129 dB (long)
Note: Using 147-gr. ammunition and a 4.5-inch barrel.
MSRP: $634
Manufacturer: Gemtech Suppressors, gemtech.com